Purchasing Timesheets Lite will:
1. Remove the 30 day trial time limit on the software.
2. Entitle you to 1 year of email support from Timesheets MTS Software.
3. Entitle you to 1 year of software updates.
4. Allow you to help decide the future directions of the software.
5. Remove the watermarks from printed reports.
You must purchase a copy of Timesheets Lite for every computer you wish to install it on.
Registration Cost
For the latest price information please look at our online shop.
How to Register Timesheets Lite
Simply go to the Registration screen which can be found under the Help menu.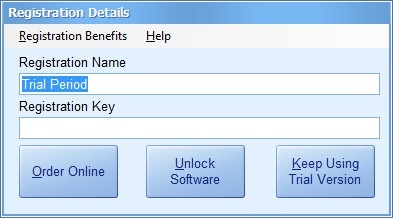 Please visit our online shop to process payment or click the Order Online button.
When we have confirmed your payment we will forward you a registration key that will unlock the software. Copy the key and company name from the email and paste them into the appropriate fields on the registration screen. Click the Unlock Software button when done. If you have done this properly you will get a popup message telling you your software is now properly registered.
Timesheets MTS Software (2002-21)
Email Us
Copyright & Disclaimer