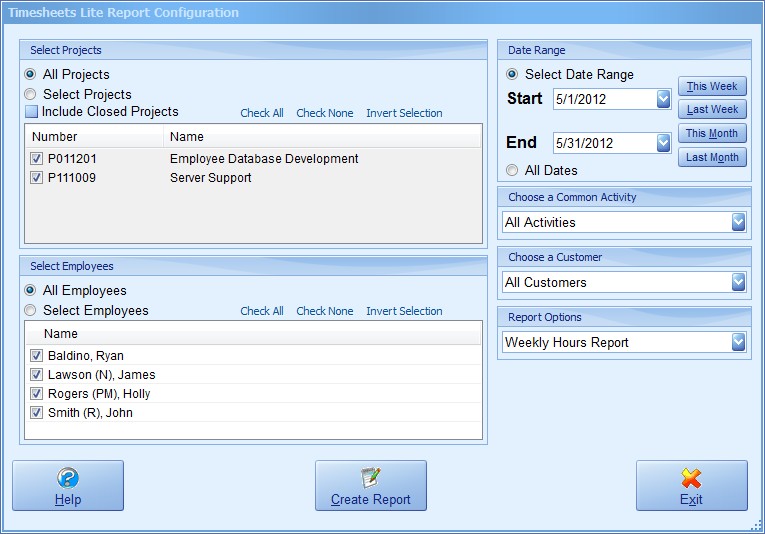 The report configuration screen allows you to control how reports are generated in Timesheets Lite. You can access this screen from the Tools-> Reporting ->Reports menu.
Choosing Employees and Projects to Report On.
You may choose to report on all employees or all projects or a selection of either. You can choose which employees and projects you want to report on using the employee and project selection boxes on the left side of the report configuration screen.
Choosing a Reporting Date Range.
You can manually select a date range to report on using the Start date dropdown and the End date dropdown. Alternatively you can use the This Week, Last Week, This Month, or Last Month buttons to automatically choose a date range. To report on all dates just select the Report on All Dates option box. Please note that the this week/last week dates are determined based on your choice of the first day of your work week. You can read more about this on the Interface Options Help Topic.
Filtering by Common Activity or Customer.
All reports can be restricted to a single Common Activity or Customer by making a selection from the "Choose a Common Activity" or "Choose a Customer" dropdowns.
Choosing a Report Type.
You can choose which report you wish to generate using the dropdown in the Report Options frame.
Related Topics
Timesheets MTS Software (2002-21)
Email Us
Copyright & Disclaimer